Ingredients
Herboxa Apple Cider Vinegar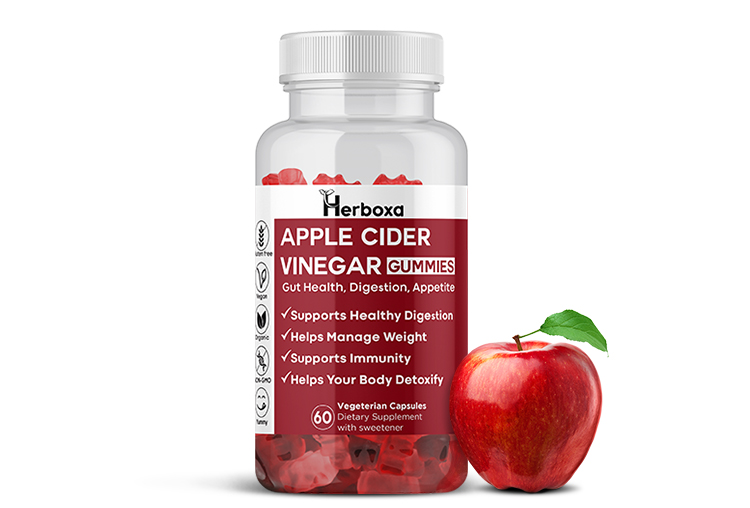 Pomegranate
What can we say? This super-fruit has a heck of a lot going for it. Pomegranates are a delicious source of important nutrients. You will find that both its peel and seeds offer a generous amount of nutrients and bioactive plant compounds. Powerful stuff indeed, called punicalagins and punicic acid.
Beetroots
Beetroots are a popular super-food for all of the fiber, vitamins and minerals they contain. Beetroots have been recognized for their beneficial properties for centuries. These beetroots help give our Herboxa Apple Cider Vinegar Gummies that yummy taste everyone enjoys!
Citric Acid
Citric acid is used for various purposes, including to balance out the acid in foods or drinks.
Vitamin B12
Vitamin B12 deficiency leads to general fatigue and tiredness. Vitamin B12 has been shown to help support cellular energy production in your body, by breaking down the food you eat into available energy to keep you going throughout the day.
Vitamin B9
Vitamin B9 (also referred to as folic acid) is an essential nutrient that helps support overall health and general well-being.
Pectin
Pectin is a unique fiber found in fruits and vegetables. Unlike most other gummies on the market that are made with gelatin, Herboxa Apple Cider Vinegar Gummies are made with pectin, from fruit peels, making them vegan friendly and as such, enjoyable by many different lifestyles and diets.
Herboxa Ashwagandha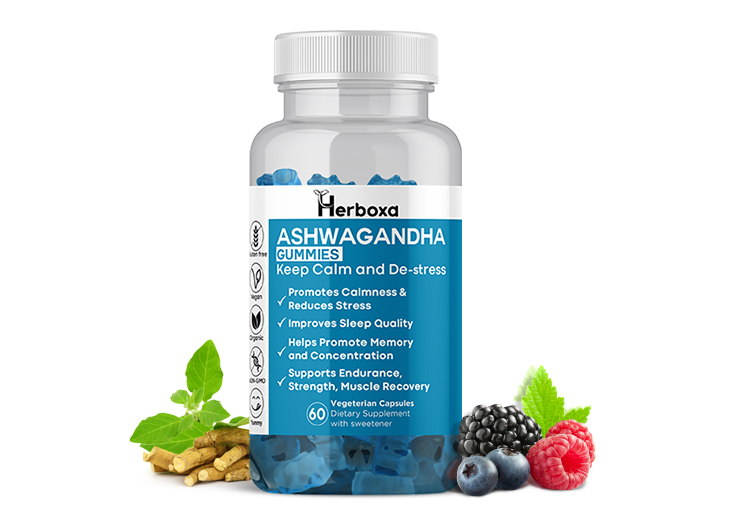 The ancient Indian herb ashwagandha (Withania Somnifera) has been revered for its medicinal qualities for over 5,000 years and is rooted in Ayurveda. Ayurveda, a holistic and natural system of medicine, is based on the concept that health and wellness depend on a balance between physical and mental health by leveraging natural medicine.
Ashwagandha is also an adaptogen—a plant that helps the body maintain balance and adjust to stress. This function of Ashwagandha is well-documented and heavily backed by modern science.
Herboxa has the highest concentration of ashwagandha extract on the market and has the most extensive set of research behind it supporting various health benefits.
This extract has a strong scientific base with over 24 studies that support its effectiveness: 10 published studies, 6 additional studies complete and in peer review, and 8 ongoing studies.
The makers of Herboxa Ashwagandha vertically integrated its manufacturing to produce the highest quality and premium extract. They built a sustainable supply chain and a unique green extraction process that allows the herb to retain its benefits. It's the most highly bioavailable extract available on the market. Both traditionally and as well as in modern science, the roots of the ashwagandha plant (and not the leaves) have been recommended to be used for its adaptogenic properties. Herboxa strictly uses the roots alone and no other part of the plant.
Herboxa Garlic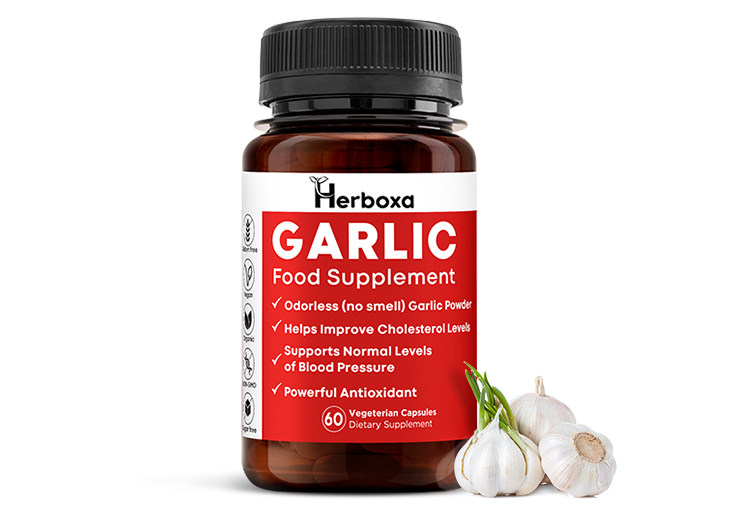 Concentrated Parsley Root
Parsley root and parsley are high in vitamins A, C and K and contain copper, iron and iodine. Parsley root is high in sodium, folic acid, potassium, calcium, phosphorus, protein and fiber. It has a substantial amount of flavonoids and is a strong antioxidant.
Citric Acid
Have protective effects in the body. Citric acid used in medicine can kill bacteria and lower the acid in urine.
Herboxa Hair Growth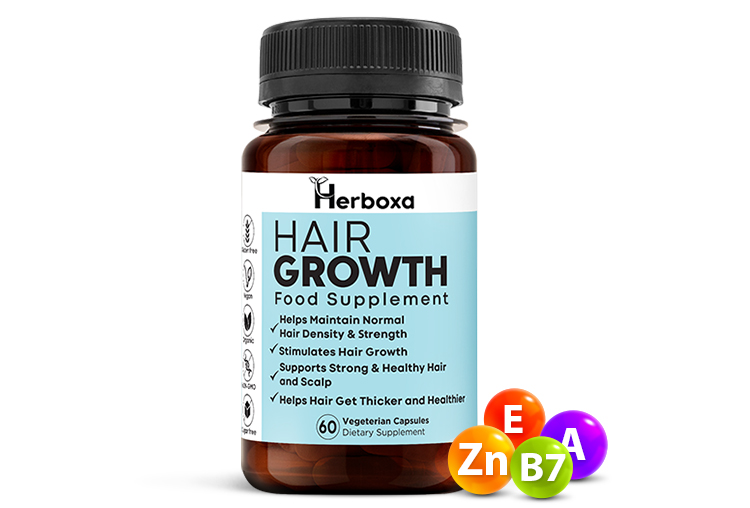 Biotin
Biotin is a B vitamin found in food. It helps the body convert food into energy and plays many other important roles in health. Biotin boosts the health of the hair and nails, and helps manage blood sugar levels, among other benefits.

Zinc
Zinc, a nutrient found throughout your body, helps your immune system and metabolism function. Zinc is also important to wound healing and your sense of taste and smell.
Vitamin A
Vitamin A is important for normal vision, the immune system, and reproduction. Vitamin A also helps the heart, lungs, kidneys, and other organs work properly.
Vitamin E
Vitamin E may prevent coronary heart disease, support immune function, prevent inflammation,promote eye health, and lower the risk of cancer. However, the research on these benefits is varied , and vitamin E supplementation is not right for everyone.

Herboxa Liver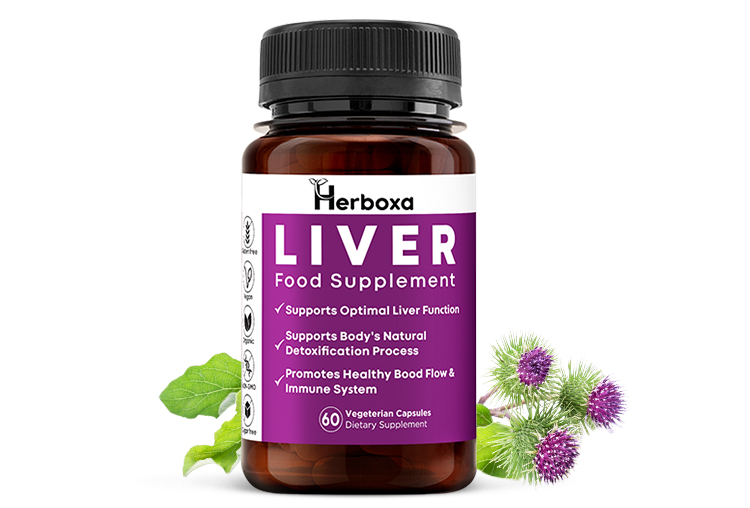 Milk Thistle
The most common use of milk thistle is for liver problems. Other potential health benefits include protecting heart health by lowering cholesterol levels and helping people manage type 2 diabetes.

Tumeric
Used topically turmeric is used as an anti-inflammatory treatment for treat skin conditions. It is also used to treat pain in the body, ringworm, bruising, leech bites, eye infections, inflammation of the oral mucosa, infected wounds, joint pain, and arthritis.

Celery
Celery contains vitamin C, beta carotene, and flavonoids, but there are at least 12 additional kinds of antioxidant nutrients found in a single stalk. It's also a wonderful source of phytonutrients, which have been shown to reduce instances of inflammation in the digestive tract, cells, blood vessels, and organs.

Artichoke
Its alleged health benefits include lower blood sugar levels and improved digestion, heart health, and liver health.

Herboxa Lungwort

Lungwort Extract Powder
People take lungwort to treat breathing conditions, stomach and intestinal ailments, and kidney and urinary tract problems. Lungwort is also used in cough medicines, to relieve fluid retention, and to treat lung diseases such as tuberculosis.

Herboxa Shilajit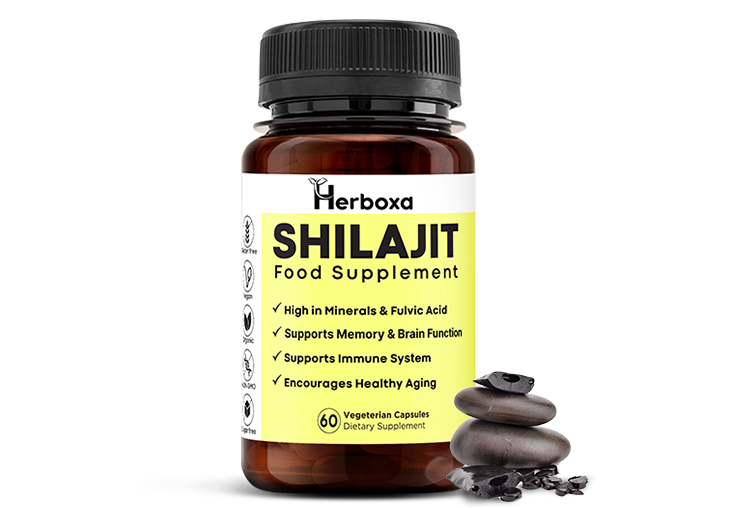 Shilajit
Shilajit contains fulvic acid and more than 84 minerals , so it offers numerous health benefits. It can function as an antioxidant to improve your body's immunity and memory, an anti-inflammatory, an energy booster, and a diuretic to remove excess fluid from your body.

Ginseng
Ginseng effectively regulates the immune response and the hormonal changes due to stress, thus maintaining homeostasis. In addition to suppressing the occurrence of psychological diseases such as anxiety and depression, ginseng also prevents stress-associated physiological diseases.

Saw Palmetto
Promising research shows that saw palmetto may help increase testosterone levels, improve prostate health, reduce inflammation, prevent hair loss, and enhance urinary tract function.

Maca
Maca is claimed to be an adaptogenic plant, which means it gives your body the ability to adapt to or resist what's going on in and around it, like anxiety, stress, and depression.

Herboxa Slim Sleep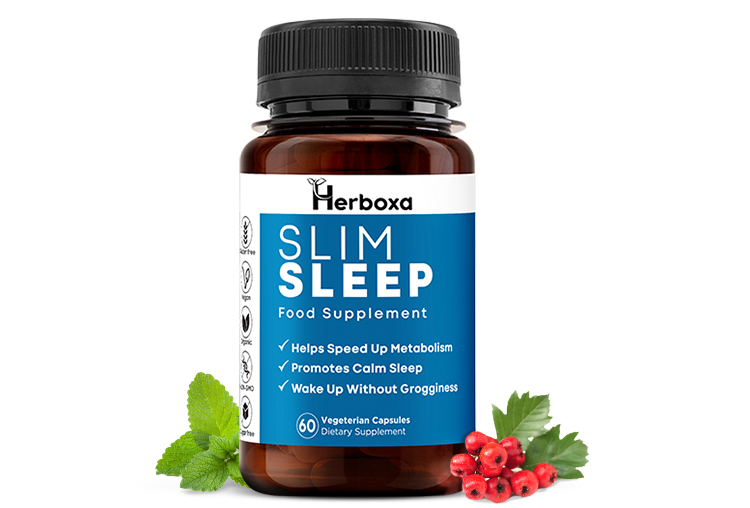 Magnesium:
Magnesium

plays many crucial roles in the body, such as supporting muscle and nerve function and energy production.



KSM-66® Ashwagandha:
KSM
-
66 Ashwagandha
is clinically shown to boost athletic performance by increasing cardiorespiratory endurance (VO2 max), muscle growth, and strength during physical training. It also helps tired muscles to recover quicker by providing them with natural stress relief.
Valerian Root:
Valerian
is an herb that may help improve sleep, promote relaxation and reduce anxiety. It appears to be safe and non-habit forming when taken at the recommended dosage.
Hawthorn Extract
:
Hawthorn
is used for diseases of the heart and blood vessels such as congestive heart failure (CHF), chest pain, and irregular heartbeat. It is also may be used to treat both low blood pressure and high blood pressure, "hardening of the arteries" (atherosclerosis), and high cholesterol.
L-Carnitine:
Carnitine
plays a critical role in energy production. It transports long-chain fatty acids into the mitochondria so they can be oxidized ("burned") to produce energy. It also transports the toxic compounds generated out of this cellular organelle to prevent their accumulation.